About us
Dry Ice Energy Ireland - Our mission statement
To introduce a novel and revolutionary cleaning system to multiple areas of industry and society.
To offer excellence of service to our customers and clients.
To treat our clients not just as customers but as colleagues and friends.
To strive to enjoy the business as we build, discover and explore multiple new areas of potential uses for dry ice cleaning and the Champ Turbo.
To run a focused, efficient and profitable business.
Dry Ice Energy Ireland - Our core values
Provide a service of excellence.
Deliver our serivce with passion and enthusiam.
Be experts in our field.
Improve industries productivity and cleaning efficiency through adoption of our innovation dry ice blasting system.
To build long standing and trusting relationships with all our business and retail customers.
Be a green business by doing our part to reduce our carbon foot print and reduce harm to the environment.
Dry Ice Energy Ireland offers affordable access to a state-of-the-art cleaning method using dry ice
Cleaning with dry ice is not a new technology - however, due to the costs involved with the traditional methods and machines used, this cleaning process has so far only been utilised by industry.
By means of the innovative "Champ Turbo" cleaning machine, Dry Ice Energy Ireland has finally made this an attractive technology for manufacturing businesses, workshops, car cleaning companies and car dealers.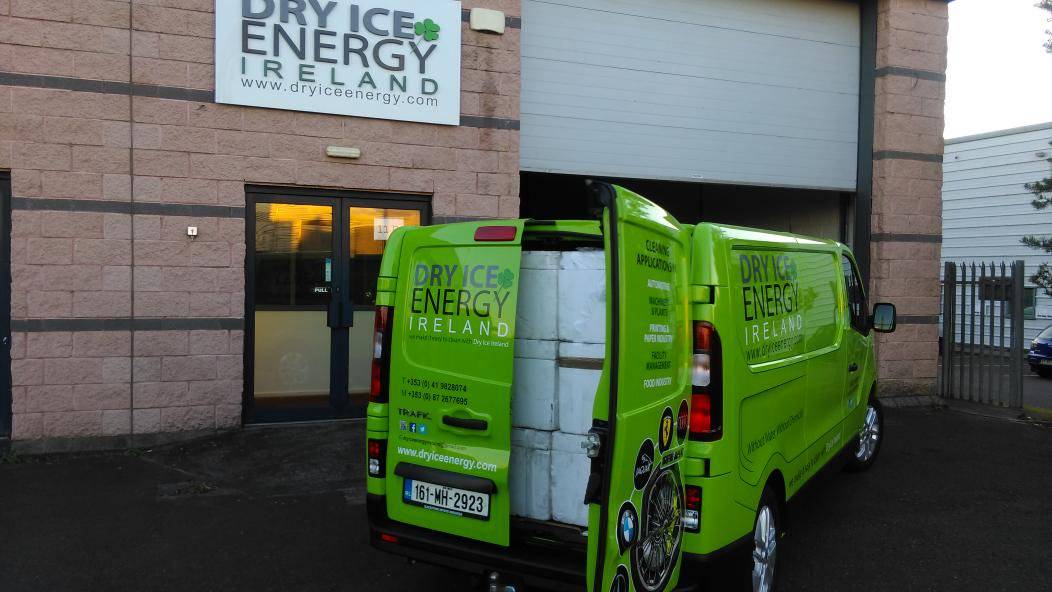 The Champ Turbo cleaning machine is perfectly suited for industrial applications such as injection mould cleaning, plastic deburring being most effective on polymers plastics including Kydex T, and Boltoran. It also offers sterilisation properties in the food industry and eliminates the necessity for chemical solvents and dissolving agents.
Product benefits:
easy to handle with low dry ice consumption of compressed air and dry ice

lightweight and compact in size, the Champ Turbo weighs just 17kg with a footprint of a large domestic hoover

flexible dry ice supply.
Experienced CEO & Founder Peter Monahan has been a businessman for over 40 years of experience working in the Retail and Manufacturing Industry.
Find out more about Peter Monahan
Dry Ice Energy Ireland
UNIT 11D, Newgrange Business Park, Donore Rd, Lagavooren, Drogheda, Co. Louth, A92 EA27, Ireland
Phone number: +353 41 214 6936
Email: info@dryiceenergy.ie
Main contact: Peter Monahan
Mon - Fri: 10:00am - 5:00pm
Saturday: 9:00am - 1:00pm
Sunday: closed
Dry Ice Energy Ireland Ltd
UNIT 11D, Newgrange Business Park, Donore Rd, Lagavooren, Drogheda, Co. Louth, A92 EA27, Ireland
Follow us on social media