Champ Turbo
Champ Turbo - Dry Ice Blasting Machine
Dry Ice Energy Ireland's 'Champ Turbo' is the worlds most compact dry ice blasting machine. Weighing in at just 17kg is not only significantly more lightweight than the competiiton but ultra compact as well.
The patented dry ice blasting technology is revolusinionisng the way large industries perform regular cleaning schedules and maintenaince of their product lines and machinery. Using a smaller and more delicate 1.7mm dry ice pellet, the champ turbo is primed for use on more intrcate and delicate components and surface materials.
Due to its compact and streamlined design, technichians can now clean componentary and equipment in situe which was previously impossible due to poor access and limited space. By doing so dissembly of machinery is sometimes uncessary which, in turn drastically reducing machine downtime, and accelerating productivity during cleaning and scheduled maintenance.
By harnessing the physical properties of frozen C02 as gas, mitigating against moisture and residue build is no longer a factor. Eliminating the necessity for solvent and chemical agents, which due to their moisture and content and toxic nature which could potentially damage components, such as electrical switchboards, synthetic fabric and the lighter more delicate plastic materials.
Traditional methods increase downtime are most instances much more complicated and raise the risk of damage from moisture and staining while cleaning with liquid cleaning agents.  
Larger industrial businesses are fast migrating to our inovative cleanign system utlising DIEI dry ice patented dry ice blasting technology and are enjoying the many advantages the Champ Turbo offers.
For a listed of benefits see the section below. For further information please contact us directly a Dry Ice Energy representive will call you back today.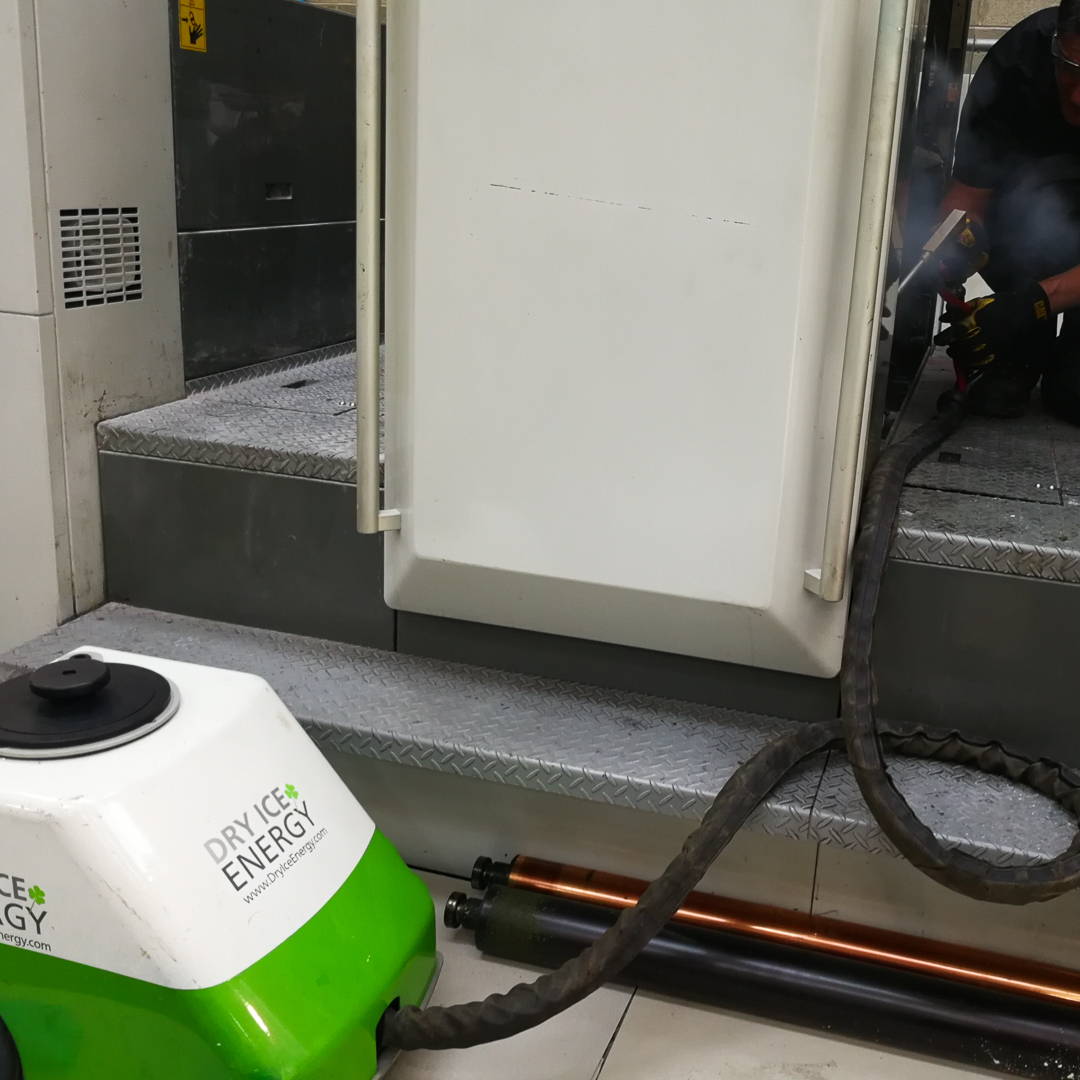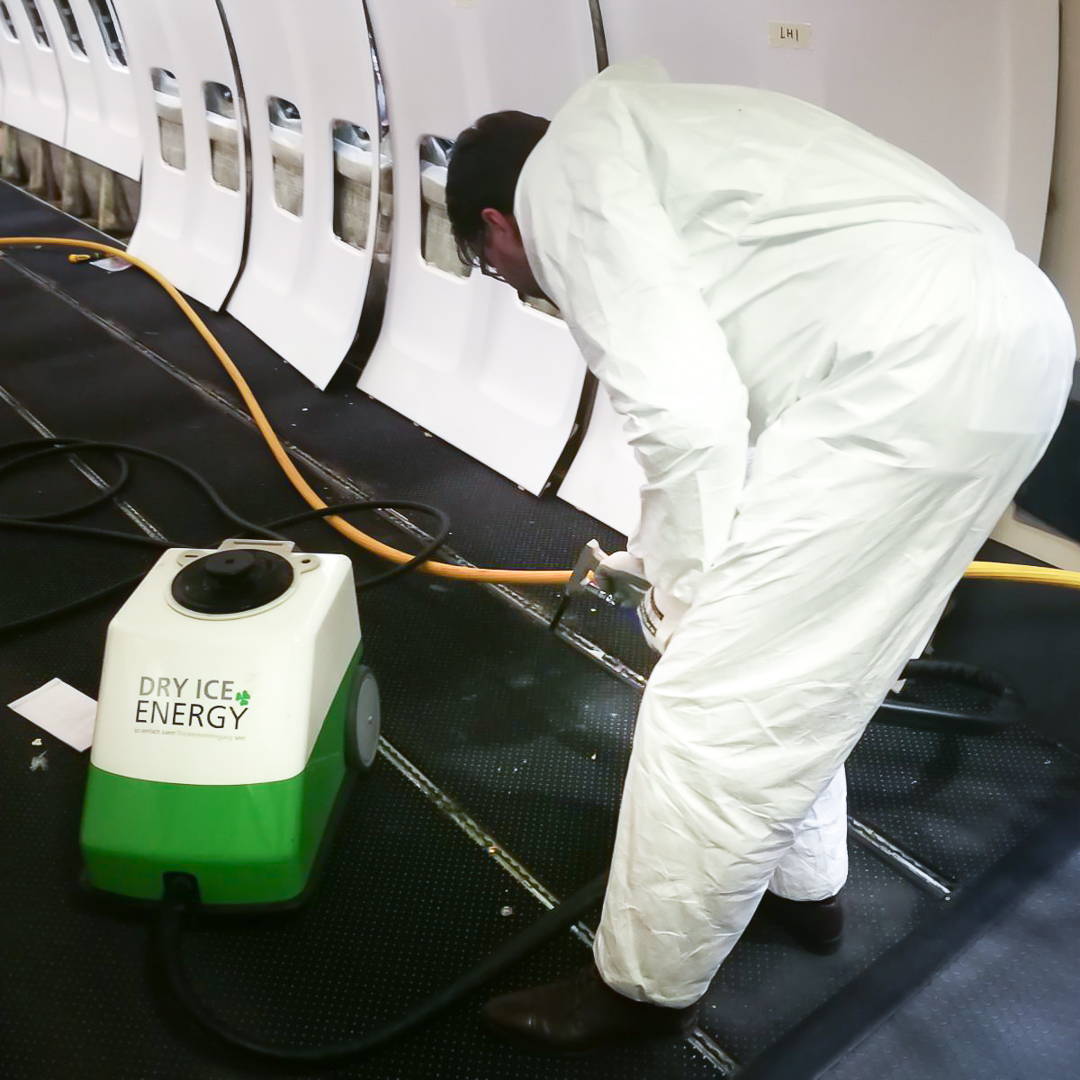 PRODUCT BENEFITS & FEATURES
Reduces time - in some cases by over 500%

Reduces costs - saves man hours and reduces dry ice (C02) cosumption

No chemicals or solvants required unlike chemical based cleaning agents

Sterilises surface/material - dry ice is -73 degrees on contact with material surface killing most bacteria

Safe for use on electrical components - no moisture, gas will not damage circuitary or leave moisture in recesses. Compressed air dispells hard to reach dust and debris which build up over time which may effect circuitrity if it remains in situ.

Safe for use on phneumatic components - dry ice is non corrosive and is gentle on surfaces, including plastic cladding and seat covers.

The 'Champ turbo' uses compressed air only and does not require electricity and increasing safety and reducing the risk of electric shock or conduction.

Size and weight is now a mere 17kg making it highly manouverable and easy for one person to move and lift.

The dry ice is moisture free and leaves zero residue - dry ice is frozen C02 and not water. When it evaporates its returns to a gas state and re enters the atmosphere.

Safe to use on synthetic farbics and rubber.

ISO Certification
Dry Ice Energy Ireland Ltd
UNIT 11D, Newgrange Business Park, Donore Rd, Lagavooren, Drogheda, Co. Louth, A92 EA27, Ireland
Phone number: +353 41 214 6936
Email: info@dryiceenergy.ie
Main contact: Peter Monahan
Mon - Fri: 10:00am - 5:00pm
Saturday: 9:00am - 1:00pm
Sunday: closed
Unit 11D, Newgrange Business Park, Donore Rd, Lagavooren, Drogheda, Co. Louth, A92 EA27, Ireland
Follow us on social media